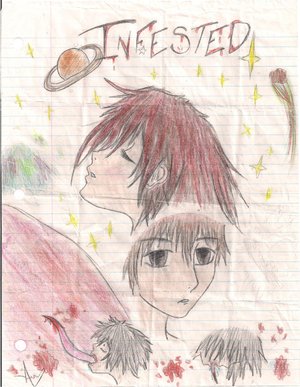 Warning! This text is adult oriented and meant only for people 18+. Viewer discretion is advised.
It seemed like so long ago. A seemingly easy but important task that was more than it seemed. I must let the descendents of my time know their own history and so I write down the whole truth and only it.
I was sitting in my room on our small ship, the Daze, just watching the
Panels blink their swirl of bright, radiating light. I saw we were nearing the red planet mars and took a look around my room. It was light hazy-gray, with an auto inflating bed box on the wall. Right in the middle of the room was the light hanging from a small rope letting off a very dry, white light. I saw a small, yellow symbol appear on the control panel and quickly said "EVI, shut down anti-matter thruster systems".
"Yes sir", the robotic, feminine voice replied.
EVI stands for Evolving Virtual Intelligence. A great asset I myself invented.
I quickly gave it the command codes for landing protocol. I had spent months practicing. When done, I headed for the pod doors. Now, you might think I was landing the ship, but instead I was going to land a small base unit. It was tough walking, not because of no gravity, because we solved that. Small metal layers in the suit were pulled by magnets in the hull, but the suit itself was uncomfortable, because it was a safety suit; you could get hit by a truck and leave without a scratch. The secret super-powerful deratex titanium, like titanium foam, cushions and protects.
I was soon walking through the small cylindrical room of my robot collection. I looked at my most-prized creations. The EVI V.1, a small, flying droid the size of a soft ball, with small wings it is a true anochopter. Moving on I saw EVI V.2, is as small as EVI V.1, except it flies using a reverse magnetic wave to keep it floating. I then came upon ADU, an Automated Defence Unit; it is a cockpit on tripod legs with a Gatling gun and high-energy photon beam. You would think it was solid, because the cockpit is thick metal, but it has holographic monitors on the inside instead of glass. Last but not least, I saw MRB, Micro Robotic Builders, tiny microscopic robots capable building almost anything with superior accuracy. I continued my way until I came to the base-unit doors. I said "open", and the metallic gray door slid with a frictionless motion vertically apart. The first thing I noticed was that I was not alone. Secondly, I saw the nameplate: Sophia Murcy. She was a tall, crimson-streaked brunette, with deep, vivid-blue eyes and wearing a dark purple collateral pressure suit that looked like shiny leather.
"What are you doing here? We had a deal!" I hissed.
"Well, I needed to see what it was up there that you didn't want me to know about. You actually think I would miss this Jake?" Sophie replied.
"I told you to stay there! Besides, you have no experience in space; you will slow me down."
"Ha!" she scoffed sarcastically.
"I can manage. Please, you have to take me! It will be like I'm not there. Plus, I brought my own supply pack with two months of food."
Sophia was a friend of mine, since the accident on earth. She was supposed to be my substitute while I was gone.
"…Fine", I said with a sigh.
"Yes!" she yelled like a spoiled child at Christmas.
"Get on a safety suit and get in the base unit." I mumbled
I headed for the large shuttle in the middle of the hanger, while Sophia got a safety suit on. The shuttle was a massive black ship complete with a large anti matter thruster on each side, which was like a tube with a ball on each end (just a bit more complex). The small hydraulic door opened to reveal a small cockpit with two chairs and controls. I sat down and the door closed without a sound. Sophia hopped done next to me out of nowhere. The shuttle violently lurched as it began to rotate. Large monitors showed everything, our heart rates, the temperature and the great ocean of stars ahead of us, millions of twinkling lights fluttering in the sky.
A deep rumbling started like a box of toys being shook, Then as I knew, the anti matter collided and … BANG we had a major jolt and saw the stars become white shining lines and in half a second went from outside the earths orbit straight into the crimson surface of mars.
There was no bang, no explosion, because the anti matter thrusters fired backwards when we were half a millimetre off the ground stopping us dead. The doors opened and with the new strain of gravity in my body, I pulled my self out of my chair and stepped through the now open door. I put my hand on the corner of the door and looked down, I saw fine red and orange sand. Oddly there was no rocks just sand everywhere. My ship the Daze had sent our home down already, a small silver circular dome with a single heavy-duty metal door. The outside gleamed like mercury and was polished enough you could see your own reflection. As I walked up the door slid open revealing it was 24-inch titanium. There were no gears just a zigzag pattern that connected on each side of the door. I saw I was entering a quarantining zone and as I thought this the door closed and a yellow and red light flashed and a deep purple mist entered the room, hazy, but just thin enough that I could see Sophia, who I had forgotten about, was watching in wonder at the small room that funny enough had no corners and was round, filling with the mist. Then a small whirling noise was made as the vents sucked the gas out. Once there was no trace left, an electronic voice said, "Quarantine complete."
I undid my helmet and lifting the glass confinement breathed in a great breath of natural air produced by plants in the base.
"Quarantines are still bizarre to me, even though you go in one every day on earth." Sophia said with glazed eyes.
"I know… but there was no choice I had to take precautions in case the infection got past the water." I said defensibly
Through this talk we got to our central hallway a short corridor with three rooms one had gold printing reading, "control room" and the others said "Jake" and "extra". I said "you should get some rest, we have a big day tomorrow. I watched her walk down the hall to her room and waved good night. When she disappeared I calmly walked down the hall toward the control room and pressed the palm of my hand to the door so it would open. I walked across the small gray room towards the only thing in it, a chair surrounded by monitors. Once I sat I said "show me irregularities in heat signatures close to this region." A couple red dots appeared on the screen surrounded by orange, a thermal image from my ship.
"Zoom"
They got closer showing that the irregular heat signatures were moving.
"Zoom"
Clear as day I saw a couple of bipedal creatures, most definitely human unless there was a zoo here.
"Infected… unless there was a resent launch I didn't now about." I spat
* * * * * * * * * *
Run Run Run RUNNN. I was running, there was screaming, I was in a town, no a city dark gray everywhere, no color. My brain pounded "Run Run." It screamed. I Felt before I saw a thing in front of me a person, no a monster, an… infected. I stopped; it ran for me, a girl, I didn't care about anything except LIVE. The mess of skin, skirt and blouse continued to run for me. Right before it was at me, close enough to touch noses it suddenly just exploded, my ears rang as a crimson tidal wave of blood flowed towards me, drenching me. I looked down to see a large assault rifle in my hand. Then another infected jumped out running towards me, I expertly put the rifle up to my shoulder screaming as I slowly pressed down my finger as I lined up the sights with its face.
"AAAAAAAAAAAAAAAAA" I screamed. My head dizzy. "Ssssshhhh Its alright Jake just a dream." A familiar voice said soothing me.
Opening my eyes I saw Sophia Looking down at me, bags under her eyes, rubbing my head.
" Uuuuggghhh" "These memories just wont leave me be." I said groggily before falling back asleep.
I woke up, not fast; it was probably a minute before I could open my eyes. Looking around I saw I was in the same room. Trying to shake off the effects of the flash back nightmare I walked to the door and stopped to wait for it to open before continuing to the main center.
We sat in silence; I just looked around my untouched water and biscuits in front of me. We sat at a small glass table with a single leg, which was the only item present in the circular dinning room.
"Jake can I talk to you?" Sophia said with a nervous tone while biting her lip.
"Sure." I said with fake smile.
"Well…. you see…. I was wondering... would you like to talk about your dream?" She asked looking down and fidgeting with her hands.
"It's just… I can't forget about the infection, it has plagued me since." I answered with no enthusiasm.
"Oh… I was just wondering if I could… you know… help." She said with a small voice.
" Well let's work on one problem at a time shall we?" I replied with a grin that loosened her up.
"You are going to tell me what it is we are doing here right?" She curiously asked
"Come on I'll show you." I said standing up; I reached a hand down to help her up.
We headed off for the armory to collect weapons.
"There are about 15 infected towards the canyon, they will be… to my estimates, in the center soon. So we come in and hope there is enough room to snipe them. This is too important for any mistakes, every survivor is counting on us!"
"When did this happen?" She asked shocked.
"The crew that was supposed to set up life support systems… one of them was infected when they got on board." I said sadly. There was no answer from Sophia
We were deciding what to pick I had a few weapons salvaged from what was left from earth and a few from the remaining expert gun makers still alive. I took an assault rifle, and my personal magnums, which were all put ether on my back or at my side. Sophia was given a simple 9mm.
Before we left I grabbed a package in the back.
We were at the door soon and I took out my small communicator, which was basically is a dark blue cell phone but has no screen on front and doesn't open.
"EVI send down a ADU to defend this base and make sure the survivors get sent here. Oh and keep the plants alive."
"Sophia you ready?"
"As ever."
"Then lets go."
Walking was hard… especially with the heavy safety suit. You might think with this technology walking was dumb, but the sand would kill any machine, the fine particles sticking too and corroding the gears and cords. So walking is justified. Luckily we had pumped the atmosphere with oxygen to make it liveable for the survivors. So we didn't need a helmet. The sand was flat with not apiece of sand out of place, except where we left footprints of course. I could see the rim of the canyon, a single line red on the horizon. We stopped for brakes twice too get a rest and continued. We could soon see the canyon, a red mountain stretched from the left to the right with nothing but a small crevice about 500 feet wide, the only way through.
We were soon there. Exhausted we sat down on the fine sand. After a minute I saw the sand was darker than before Confused I picked up a handful and let it flow through my fingers. I then realized that the sun had almost set and made the sand appear darker. I then had to think about what to do next.
"Sophia it is kind of dark and you look tired you should get some rest, we will continue in the morning."
"Ok." She yawned.
"EVI wake me up if any anomalies get within a kilometre of us."
I layed down on the soft sand and closed my eyes.
* * * * * * * * *
"We must do something!"
"Yes if we stay here we will die!"
I slowly realized where I was, the meeting.
"Now people of earth I have a plan, we will set up zones on mars and head there till the infected die and then come back." I told them without even thinking about it.
"How?"
"When?"
The large crowed in front of me yelled. We were in a large opera house thing and I was on a stage looking down on an assortment of people.
"We have a crew on the way up there now getting ready." I answer
"We shall move the survivors to an island on the coast." I added
I walked to my office. "Sir a message is being cast from the Luna." Said a nearby secretary. The Luna is the ship that the crew was on.
"Ok, open the broadcast.
A hologram suddenly popped up.
"Sir, Alfred is sick, severe head aches and bloody vomit."
"Keep an eye on him get the medic to check his…." My voice stopped as I saw a dark figure behind the captain. Anyone else wouldn't have thought this was weird because there was 15 people on board, what scared me was the blood soaked name patch that said: Alfred. I quickly regained my senses.
"Look out an infected!" I screamed.
"Wha…?" He asked and turned around and with a bewildered face just stared at it.
The infected jumped on him pushing him into the control panel ending the message.
"Get an emergence launch now the last thing we need is them on our new planet." I yelled to the shocked secretary. Running through to the meeting room I saw who I was hoping to see Sophia. I slowly walked up to her.
Bending down I said "I need to go to mars for a while to check on…. Important matters. If you promise to stay here I will let you substitute for me."
"What's so important?" She asked suspiciously
"Nothing just technical stuff." I said innocently
"Fine it's a deal then." She ended this with a smile.
"Great."
"Jake, Jake, JAKE!" the voice in my earphone yelled.
"…What." I asked half asleep
"You asked to be notified if any anomalies come within a kilometre of your position and two anomalies have entered that range." The computer told me.
"Ok thanks."
I yawned and rolled over. I said, "Wake up." While I nudged Sophia who mumbled and opened her eyes.
"Time to go" I said.
We had soon enough entered the canyon and while I was walking I thought about these creatures characteristics. "Well. They have basic instincts like eating but no real intelligence." I thought. I also knew that their bodies had been slightly changed by the virus. A new longer tongue and a single organ in their bodies were added and it seemed to do what ever the original organs did. The tongue worked like a stinger and even when disconnected from the infected's body it will slither around, trying to get the sharp end of it in your flesh.
The eyes turn white but are far from blind. A single red dot in the middle gives them the opposite: great vision. The organ it seemed was just a way to make them even better. It healed almost instantly and the more an infected ate the bigger it got. Our scientists see this as adaptation from our fat; instead of storing energy they store the food. No one knew why the virus made the host do this, nor did they know what happened when it got to full.
Thump thump thump. I looked up to see a small rock fall down the side of the canyon and land two feet away. In a swift motion I grabbed out my assault rifle.
"EVI where are the anomalies?"
"They were last detected at the other side of the canyon and then were lost. No anomalies were detected since."
"Sophia stay behind me, they should not be able to just vanish and that leaves the possibility that the canyon hid their body heat."
There was a turn in the canyon up ahead and as I slowly walked towards it I saw two shadows slowly slip across the sand coming.
"I got you now." I whispered to no one as I raised the gun, waiting for my moment.
"What are we going to do now?" an unfamiliar feminine voice asked.
"Well we should make for that base and hope that the survivors are not there yet and if so we warn them." A male voice answered
I was deeply confused, obviously infected don't talk, and the possibility of survivors on the ship wasn't expected.
"Who's there?" I asked.
"Wha…?" a voice mumbled in confusion
I ran around the corner and saw two people: a tall female with dark blue hair, pale skin, rosy cheeks, emerald green eyes and a pink collateral pressure suit. The suit looked to be too small for it was plastered too her skin, looked amazingly uncomfortable and she probably couldn't pull her legs more than 4 inches apart.
There was also a moderate sized male with black hair, a tan and brown eyes. He wore a simple brown multipurpose suit that was one size to big.
" Who are you?" I asked in an unconscious state.
"…Well I'm Holly and this is Tim." The female explained.
"What about you?" The one called Tim asked suspiciously.
"I'm Jake Dynex and this is Sophia Murcy." I answered with authority.
"Oh… sir… good to see you." They mumbled in unison realizing who I was.
"The survivors… are they here?" Tim asked.
"No."
"Oh good. …Umm… Albert, he was infected… killed the captain who became infec-."
"I know. But how did you escape? Were they chasing you when you left the ship? That would explain why I saw fifteen. I thought they were together, they must have been chasing you." I asked cutting them off.
"No. You see we jumped in an escape pod while on the ship and just landed an hour ago."
This made no sense.
"But there were fifteen of them? Plus there were only fifteen people on the ship…"I thought out loud while thinking.
A after a minute of thinking, I got a good idea of what I thought happened
"…What creature just eats and dies, without reproducing? None so… what's the point of a creature that takes over people and then just uses the body till it dies? There isn't a point. It is what we've been missing this whole time… reproduction." I said trying to explain it to my self.
"Oh crap." Someone yelled.
I looked behind us and saw a small green creature shaped like a CD player crawl down the rough red cliff. It was about a foot long. It had 6 stick feet and red veins popping out of the skin. To complete it was 4 tiny eyes and a leech mouth with a small thin tube in it. It made a noise like a hot pan under cold water and ran. It's stubby legs were a blur as it went for the kill… me. I raised my rifle and simultaneously it jumped. Time seemed to stop as I pulled the trigger and a torrent of bullets flew at it ripping it apart. It flew back making a gooey splating sound as it landed in a mess of green slime and twitching legs.
"Well we know what the babies are I guess." I said lowering my assault rifle and switching the magazine for my gun.
"So EVI for some strange reason didn't see this one enter the canyon I guess." I thought out loud. "How could the virus change the genetic structure of a creature?" Sophia asked.
"It Didn't." I replied.
I bent down and grabbed the mouthpiece of the creature.
"You see the tube here is not for feeding because it has a full sac on the end and obviously has not eaten anything… yet… so it must use it to pump stuff in bodies… probably the virus. It can't feed or reproduce so it has a single goal of making sure more people are infected. It also has the traits of being multicelled like a human and has to infect other creatures to make more of itself, like a virus does." I said throwing the proboscis on the ground.
"So it didn't change the genetics… it added too it." I said finally answering the question.
Thinking about this we walked down towards the exit. There was still a soft crack under our feet as we walked down the thin canyon. There was a couple thumps and I looked up to see a rock fall down the side of the canyon. We waited a minute and I said "stay close" as we began too move on. Suddenly four of the new creatures ran around the corner that the two-crew members came from. They spread out into a line making the same noise as before As they charged I raised my assault rifle and went trigger happy on two turning them to green paste, while Sophia took out another one.
I saw the remaining one get ready to jump and pulled the trigger… but rather than the normal boom, I got a quiet thump and I realized my guns chamber was empty.
The creature jumped pushing up cloud of sand in its wake and landed on my stomach knocking me on the ground. I saw it raise its head and mouth piece like a spear and I yelled "protective helmet on." A glass helmet shot out of the neck area of the protective suit and around my face. It lunged its proboscis down putting a crack on my visor between my eyes. It raised its body again but I quickly grabbed its sharp proboscis and snapped it off before it could lunge down again. It suddenly started screaming, a noise similar to nails on a chalkboard. I grabbed each pair of legs with my hands and pulled, ending the screams and making the creature into a gory mess. I threw the sick sight away and got up, getting as much of the things dark blue insides off me as possible.
"Jake are you alright!" Sophia yelled running over.
"Protective helmet off… I guess they are considered a new species… so they need a name… Jumpers" I thought out loud with a grin.
Sophia let off a sigh of relief and then a puzzling look came over her face and she asked. "What do we do now?"
"If we turn back, there will just be more and more of those… Jumpers, so the only way to go is forward." I replied giving everyone the answer they didn't want.
"Well better go then." Said a hesitant Tim.
We began walking and as we neared the end of the canyon Tim asked, "They are going to put our names in the history books… right?"
This is one of those points where you are confused and I will try to help. Now I will answer questions with questions just to mess you up more. Do you believe that doing a bad thing for a good reason is right? Probably not. Most people have been put in positions that involve this principle. For example some new kid is in the hallway of your school and a bully is about too "accidentally" wet the new kids pants with soda. You see a teacher coming and have a choice: Do you pull the fire alarm and get in trouble to save the new kid from humiliation, or let the kid be a laughing stock for the year? Tough question, but that's life. You probably don't understand this, so when you finish reading the book, come look at this part again, you will understand.
The next question is: do you understand this? Now this books plot unfolds throughout the story so be patient and have a good time, and don't read it all at once because it is meant to be savoured! This book is in fact sci-fi wit ha little romance for you people who like that. It is not a murder mystery, children's book or a biography, ok.
Now I will also explain that this book is good for people who can see pictures in their head while reading because in my opinion (probably because I wrote it) It would make a good movie. Also I personally would rate it about 14A to 18A because of the gory content and suggestive themes through out the story, remember this is my own thoughts not an expert raters so don't use it like an expert raters. Now where were we… ah that's right...
I remember it being very cold… it was probably just the suits air conditioner… but I can't say for sure. The sun was still up and we had walked a very long time. Things had been going… um well… kind of sour. My ship could not find anything unusual on the planet, so that left one thing to search… the crews ship. So that is where we planned on going. Sophia had become uneasy about all the resent experiences and started complaining while we walked.
"Do we have to go there?"
"Hum… let me think... YA!" I said with as much sarcasm as I could muster.
Sophia squinted up her face and with a frown said "Well this is a job for the military not us… so call them."
"If they get here, the infection will likely happen all over again and with all the rockets launches going off on earth, it will make people scared."
"Huuumm!" she grumbled glaring at me before looking away.
A large dune was ahead of us and it was a little difficult to climb but when we made it to the top we could see the "ship", nudge nudge wink wink.
"WOW!" Sophia gasped as we saw the most amazing sight so far.
A massive silver giant was in front of us; it was pretty badly banged up. It was scratched up, in three pieces oh, and did I mention the large crater it was in. As I was looking at this amazing spectacle I thought of something.
"OH NO! The things… uh… Jumpers they are cold blooded right… so that must mean there was some other creature I saw on the ships infrared!" I yelled with wild eyes
"Wow… slow down Jake." Holly insisted.
"There was fifteen of them, that would exclude the Jumpers, so what are the extra two?" I yelled louder getting more worked up.
"I guess that means their babies aren't exactly the same…" A quite pale Sophia whispered.
"Ok… well… just be prepared for anything… they changed significantly last time so there is no way to know what to expect this time." I told the other three.
"So… should we go then?" a shaky Tim asked.
We began to move, everyone was silent and jumping at every thing that made noise or moved. Once someone kicked a rock, which I shot apart with the rifle, scaring the whole group and sending up clouds of sand.
"Watch it!" A ticked, pale Tim yelled jumping from the guns recent firing.
When we got about a football field away Holly asked: "Where will we go when we get there?"
"We will go to the medical lab to check the computer there for where the crew members are and turn on a full ship quarantine. Also we will look up the captain's where abouts in the computer because we need his card key to get in the control room. But we need to go to hydroponics first to see if the air transfer filter is still operational. If it didn't pop into auto when the captain died, then we must do that so clean air will be sent throughout the ship, hopefully before we run out of air in our oxygen tanks that is." I said explaining my plan.
" Well that won't take too long." A sarcastic Sophia commented with a smile.
" EVI put a internal map of the ship in my suits data base and open the door." I said ignoring the comment.
"Yes sir."
"All helmets on." I said and watched as instantly all the helmets popped up.
Mine I discovered was still damaged from resent experiences with Jumpers and was difficult to see through.
"EVI send some MRB out of the suit to fix my helmet."
There was a soft humming as the crack slowly began to disappear.
When the crack had completely gone I could see just fine.
"Ok well lets go." I said cheerfully.
We walked up to a large door the size of the front of an average house and when we were just out of its opening path, it began to move. It worked just like the door on the bottom of those large cargo planes; it folds down, pushed and pulled by hydraulic arms.
It made a super squeaky sound on the way down and it was going really slow about 2 minutes a foot.
After 4 minutes Holly said, "This is going to take a while."
"Well after the crash it took were lucky that the door works as well as it doe-"
CRAAAEEEEKK! With a loud scraping noise the door suddenly stopped moving all together.
"Nice now look at what you did!" Sophia yelled giving me dark look.
"ME! How is this my fault?"
"You cursed us! That's what!"
BOOM! Suddenly the door's hydraulic arms broke sending the door smashing down a hairs width away from me.
"AAHHH" yelled a startled Holly.
After a minute I laughed and said, "See, me curse us, not a chance."
"Gggrrrr" Sophia growled angrily.
We walked onto the slightly tilted hydraulic door and were greeted by a white hazy mist that began to flow out of the ship. It wasn't thick but was extremely strange.
"Weird one of the liquid nitrogen tanks must have cracked and changed the temperature of the ship, so when we opened the doors it became clouds." I pondered.
"We don't all care what it is." Sophia said with a laugh.
"You better watch it." I muttered just loudly enough for her to hear.
When we got up the ramp we were at cargo bay, a large room with a smooth flat, gray floor.
I could see just about 15 meters away before the fog covered my vision. I could see from the green map at the corner of my helmet that we were about 60 meters away from the hydroponics hallway.
As we began to move forward a red timer popped up on my screen.
"Ok guys we are on a timer here, we have an 15 minutes to get the life support back on line. So lets go."
We walked a bit faster and after ten feet a red light popped up in the middle of the room.
"Quarantine activated, unknown life forms detected in hydroponics lab. Blocking all exterior exits." A large robotic female voice boomed.
I looked behind us and the ramp was being closed off by a large internal door as the hydraulic arms attempted to pull up the disconnected door.
I noticed a 2 feet wide hole in the metal wall in front of us from what I could see it probably went deep into the ship.
I sighed and pulled the rifle closer to me as we pressed on.
* * * * * * *
Earth hadn't always been a mess; it had once been "fine". Money had wrecked the world, nothing else mattered. Money had once been used to get something if you didn't want to give away an item. But it got out of control. It ended up like a game of monopoly where the winner keeps handing out money so the game won't end.
Then it happened a company working on viral science invented a cure for anything.
It was intended to work by having a virus kill anything bad that entered the body.
First tests went well until a rat escaped. Some of the rats began to be being killed during the night, being ripped up in the morning. The scientists were confused until one of them saw a rat ripping a fellow cage mate apart during the night shift. The rat that escaped was called a test rat and should be kept away from during the news, but the rat bit someone who wanted money for catching it and well you can guess things went down hill fast. Some think the virus changed others think the virus thought it was protecting the earth instead of us and saw people as a problem, some think its both. Whatever the case it is seen as sort of extinction, but only for people. The disease does not affect animals; it seems to just stay away from them now that it has changed.
* * * * * * *
We had gone maybe 40 feet when the lights around us suddenly flickered and switched off shocking me into remembering where we were Sophia grabbed my left arm and squeezed up against me, her head pressed against my shoulder.
I reached down near the tip of my gun and pressed the button to turn on the flashlight.
"OK is everyone still here?" I asked while quickly scanning around us.
"Yes." Answered a startled Holly
"Uha." Sophia silently mumbled clinging to my arm.
I pointed my light to Tim and waited for an answer.
"Ya…uuggg!"
Tim suddenly got a sick pained look on his face and his mouth opened but no words came out.
I heard a ripping noise and his face became pained as if to say help me.
Suddenly a large bulge popped up in the front his suit and grew until the brown material ripped squirting a long stream of blood on Holly. A huge purple tentacle slithered out of the hole and the front of it opened like a mouth and let out a short scream similar to the jumpers.
I regaining my thoughts I lifted the gun and opened fire. The monster screamed again, purple ooze coming out of its wounds. It rolled around Tim and the other end, which I had not seen before, pulled him into the darkness where we had come from.
A few seconds later I saw the purple tip slithering along the ground towards me.
"RUN!" I yelled.
I quickly pulled my arm from Sophia, grabbed her hand and ran. Holly was just ahead of us. I looked behind us and saw the thing was just a few feet back. The thing quickly caught up with us and wrapped around Sophia's leg. She let off a pained scream as it ripped her away from me. Sophia didn't want to go without a fight; she started ripping her hands at the creatures flesh making the creature scream and loosen a little.
I was wondering what to do and with little hesitation decided. I jumped toward her and did a barrel roll. I sprang to my feet and fired at the part of the tentacle below her leg.
I quickly saw the gun did little damage, the bullets only going deep enough to make it twitch and bleed. I ran and grabbed Sophia's hand and started pulling. It was having trouble against me since it was wounded. I needed to think of something fast because it was still winning. Looking around I saw another hole in the wall like the one from before, bits of metal and wire sticking out of it like something had come out. I suddenly got an amazing idea. I let go of her hand and sprinted across to the hole and with all I had in strength ripped a sharp shinny piece of metal out of the holes side. I ran holding the metal like an axe and slammed it down into the creatures flesh. It went half way into it, making the creature let go completely. I on the other hand was not done, lifting my boot I stomped on the metal dismembering the demented thing. What didn't get pulled back squirmed on the ground stirring the fog.
"You… you saved me…" Sophia mumbled shakily rubbing her leg.
"Ya… I did didn't I…" I said softly pulling her up to her feet.
I looked down at my foot and saw a half-inch deep line across my titanium boots where I had stomped on the metal.
I looked to our timer and saw we had 5 minutes of air left and I knew that it took 1 minute to get the air around the ship.
"We need to go now." I said and we began to walk.
"Where is Holly?" I suddenly asked
"Oh no!"
"Crap… HOLLY HOLLY HOLLY!" I screamed for her as we walked.
"EVI what is crews status?"
"Tim deceased. Holly alive, wounded and unconscious." The computer said with out a trace of emotion.
"Oh that's good news I guess." I said with fake enthusiasm.
"Sophia alive, but pheromone, heart beat and blood pressure levels indicate sexual arousal." It continued.
"…Uh… thanks EVI." I said after a minute of uncertainty.
Sophia blushed and said. "I must look like a pervert or something huh."
"Not at all." I whispered and took her hand in mine, while I slung my gun behind my back.
She looked at me curiously and when she understood my intentions blushed again.
* * * * * *
We eventually came upon a fork in the hall. I looked at my map and saw we should go left.
"Ok this way." I said pulling Sophia towards hydroponics.
About 200 feet farther down the hall I saw the green hydroponics lab sign on a jet-black door. It was difficult to read with all the fog. When we got there I asked the door to open, but instead got a load of gibberish on my visor.
"EVI do what ever you have to do to open this door."
Within 20 seconds the door opened and we walked in.
The first thing I noticed was it had power and lights. Second it looked just like an office back home: it had a desk with a computer, a table and a window that showed skyscrapers. Obviously this is not possible, it is actually a TV screen that runs a 24-hour video of a city over and over again. It also had a door at the far end that led to the actual hydroponics lab.
I told EVI to lock the door and jumped into the chair letting go of Sophia's hand. I began to run checks to make sure that I could get the air back on. I saw that everything was fine and clicked restart ship life support system.
After a minute the fog was gone and my timer had run out.
I stood up and pressed the button to suck my helmet in to my suit and breathed a deep breath of air. I turned to ask Sophia how she was holding up and I saw she had her suit off and was grinning mischievously.
She was wearing a small dark blue skirt with long pink socks and a pink blouse.
"What are you smiling abou- uumghh!"
Suddenly she shoved me onto the table and crawled on top of me, pushing her lips into mine as I spoke. I was shocked at first but once I realized what happened I lifted one arm on to the back her head and one around her waist. I could think of nothing but the softness of her skin and the taste of her delicate lips. I turned her over onto her back and pulled my suit off to reveal a red t-shirt and cargo pants.
I looked down at her and she smiled with a radiant glow.
"When did you learn to kiss so well?" I asked brushing a strand of hair off her face.
"When I pushed you on the table." She replied with a grin.
We began to kiss again but even more passionately. I looked into her deep blue eyes and began to stroke one of her legs that had curled around me.
"I… love… you." She whispered while still kissing.
"I… love… you… too." I answered into her mouth.
She moved one of her hands down to my belt and began to undo it, while the other hand pulled down her skirt revealing a pink one piece undergarment.
I pulled out and said: "There should be an emergency blanket in the back of the room I'll get it."
While I got up I though how lucky I was she came.
* * * * * *
I felt warmness; opening my eyes I saw we were still on the table. I just kind of sat there under the blanket rubbing one of Sophia's legs that were wrapped around me, which was now bare skin.
Her pelvis began to rock against me. She groaned, her breathing increased. After a while I decided I should get some food ready. I lifted her off me and crawled off the table. Digging through my supply kit I found two canteens of liquid meal. Its like chicken broth but it takes a while to digest so you won't get hungry.
I pulled my clothes on, drank one of the canteens and brought the other canteen over to Sophia. I gently shook her. When she woke I gave her a kiss and said, "Drink this. You should also get your clothes and suit on."
"Thanks." She whispered as she took a sip and hopped off the table.
She walked across the room and began to pull her clothes on.
I watched as she dressed, admiring her beauty.
"Don't you have something you should be doing?"
"Uh… sorry…I didn't realize…"
"I'm just joking watch all you want." I laughed rubbing her hands down her body teasing me.
"Can you help me here?" She asked failing to do up her bra.
"Sure." I answered pretending not to get a kick out of the idea.
I walked over as she hands over the bra. I hold it up and move it around her body letting my hands brush lightly against her delicate skin. I do up the back, and then let my hands slide down the length of her sides. I stop them at her waist and turn her to me. She looks up into my eyes with a neutral face and smiles showing she knows what she is about to get. I pull her into me and begin to suck us both into a deep pure kiss.
My hands lowered to her thighs where her pants were. She lifted one leg up against me at waist height, showing me I'm in control. I shoved her onto the table, which still smelled of last night's use of our devices (wink wink nudge nudge). Pulling away from her mouth I begin to kiss down to her stomach letting off sighs of pleasure. Her panties and thighs began to get wet from the stimulation.
Her pelvis began bucking against me and after a minute suddenly stopped.
"Jake… we better go." She moaned.
"Ya your right." I sighed helping her off the table.
I walked over to the computer and tried to turn the power to the other parts of the ship on.
When I finished Sophia was once again in her safety suit and watching me finish up.
"Ok were ready to go now that the powers on again." I exclaimed proud of my work.
"Oh wait a sec." I logged back on to the computer and started seaching for functional surveillance cameras. I came up with 20 and a quick flick throught told me that our path was completely clear… something must be wrong with the cameras though, there seemed to be something fleshed colored on it. Some cameras showed purple dots in it. Probably just a malfunction.
"We should head off to the medical lab too find holly and search up the captain's where abouts." I reasoned.
We walked over to the door leading to medical, a large sign on it read med lab corridor. Below it was a red hand print which looked to be security scanner.
"Its good to be me today." I said grinning with pride as I lifted my hand up to unlock the door.
I was speechless when I saw what was behind the door: a thin, slimmy, flesh colored film on the ground.Making a sick carpet for the floor."Whats that?" asked Sophia.
I..I don't know." I earnestly replied.
I put my right foot on it testing whether it would do something disturbing
or not. I was truly relieved when it just made a squelching noise and compressed like a spunge.
As we walked I noticed the walls were rusted and a dark orange fluid dripped out of holes in them. Sophia stopped and reached out to touch it, before she could I nocked her hand away and whispered furiously "Don't touch that!"
"Why?" She asked
"Do you know what it is?" I replied.
"No…"
"Than don't touch!"
"Keep going." I ordered switchin to a calmer voice.
After a few minutes of walking I noticed purple spots bulging out of the goo.
A few yards a head they began being even more packed together.
I was deciding whether or not if it would be best to take another route when a dot right in front of me began to twitch. It split and a purple bug the size of my fist emerged it unfolded and stretched its wings. I aimed my gun at it but I realized there were thousands of the dots around me and instead decided too reached my foot out. I put my full weigh on the bug and twisted my foot watching orange ooze come out from beneath my foot.
"Well that was easy."
There was suddenly a far off buzzing sound that quickly began to grow. The purple spots around us began too shake violently.
"RUN!"
My heart was hammering in my chest even before my feet bgan too move.
"EVI how far from the med lab are we?" I panted.
"50 metres." The bland voice said as we rounded a corner.
"AUGGH." screamed Sophia slipping somewhere behind me.
"Get up quick!" I yelled and after a few seconds hesitation ran towards where we came from.
"What are you doing-"
"GO!"
"No..don't even think about-"
"I told you to go now go!"
She ran towards the medical lab crying.
* * * * * * * * *
I stopped and turned around still sobbing. I saw a large purple clud looming over Jake.
"You think you've won? Well I'm not done yet"
The hall lighted up as he began spewing bullets from his assualt rifle.
The buzzing noise from the purple cloud intensified and moved for him, orange guts falling from each bullet fired.
The cloud reached Jake and seemed to fall on him covering him in a purple blanket. His gun fell to the ground as he began flailing to get them off him.
I couldn't handle anymore and continued for the med lab.
When I made it too the door I had stopped crying and began too laugh.
"Now all I have to do is get a bacteria sample…" I whispered too myself grinning.
* * * * * * *
I shook trying to get them off. "Im going to die…" I thought sadly.
I fell to my knees still wriggling violently. I remembered the box I had taken from the armoury. I moved my hand down to the pocket I had put it in and took it out. There were so many bugs that I couldn't see it but I opened the box and found a the small oval shape.
"Suit integrity 30%" EVI warned with no emotion.
I pulled the pin and held my arm out waiting for the fire to expand and cover me. Within seconds the fire was out and the only sigh of the bugs were roasted remains. I looked through my soot covered visor and saw the spent incendiary ball in my hand.