cat form
human form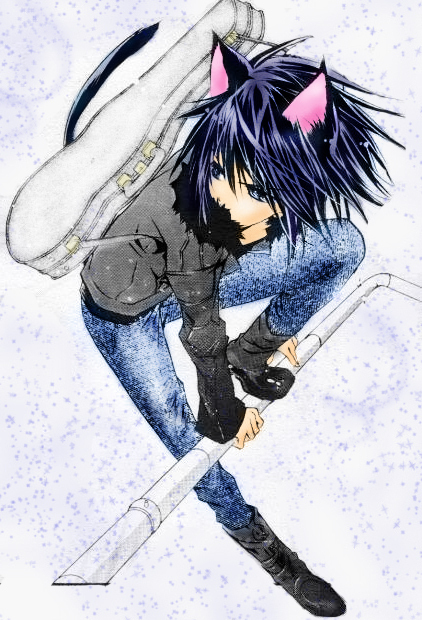 Full Name: Raion no kiba
Hair color: Dark blue almost black
Date of Birth:11/6
age:17
skin tone:a light peach
wing color: none (if avian-human hybrid)
Eye color: light sky blue
Physical Discription: he prefers to wear blue jeans, black boots, a black t-shirt that had a skull on the front, he also wears a black light jacket. He has cat ears and tail, his ears twitch slightly at almost every side. He can hide the ears and tail if need be. His cat form, is a black.
Personality: He is silent and Mysterious, yet unpredictible. he can be kind when feels like it, but usually cold hearted and alone. He is more the loner then anythingelse. He is like a ninja~
Powers: Healing, cat form, readminds
Extra Info : Noone Knows his side
Background:
He was supposed to be created for the dirty work of the school. But he vanished a year after he was created, later found by Tenshi, who was also created for the dirty work. Raion depended on himself and no one else. He didn't trust anyone, it took Tenshi 2 years to get any trust from him. But even then, he dosen't stick around to deal with some of the dirty work. No one knows what team he is on. he "works" for the school, but helps the expirements.
song that fits you character:
Darkness