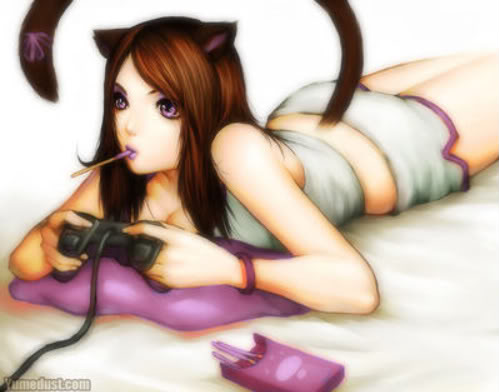 human form,
cat form:
Full Name: Tenshi, no, kaze
Hair color: Dark brown
Date of Birth:10/13
age:16
skin tone: alittle pale but has color.
wing color:she has no wings but she is somewhat artic tiger.
Eye color:Violet purple
Physical Discription:she is usually seen in Mini-shorts, noodle straps, white or black knee high socks, and black plain tennnis-shoes. she wears her bangs over her left eye, and she is bout 6"3'
Personality:
/she has an interesting character. She can be polite, gentle, sweet, and innocent. but then she can also be rude, cruel, evil, and a great fighter. She mainly keeps to herself, and is mostly silent. She is the one to smiled and nod or just stare at you. She is the quietist person next to fang.
Powers:Transform Neko(cat), reading minds, breathing under water, great night vision to~!
Extra Info : SHe works for the school, Itex, and the institute.
Background:
was their first cat/human experiment and was a sucsess. she was experimented on for 10 years and then they tested and fixed her for the last 6 years.She faught the erasers and some of their strong experiments and she was a sucses in many things. she was a sucsess in speed, strength, agility, nightvision, and cat/human-like attitude. Then they told her if she joined they would no longer eperiment or test her. she then quized them about it and they seemed to have toled the truth. Now she wonders around in spy for the school, Itex ,and the institute.
song that fits you character:
kids of america