(her human)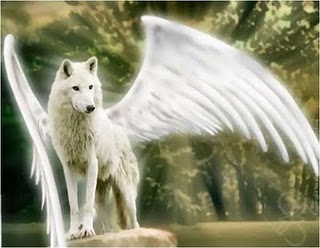 (Her Wolven angel form)
Wolf fur: White
size:4ft
Weight:90pounds
eyes:ember/red
Full Name:Kuroi dark inu
Hair color:Red
Date of Birth:12/01
age:16
skin tone:tan/peach
wing color: pure white
Eye color:Amber
Physical Discription:She wears whatever will blend her into the crowd.She wears ripped jeans, and black shirts, converse, a baseball cap. She has Long red hair and amber eyes, ahe wears herhair in a ponytail ocationally down.she will sometines wear a jacket...but not really.
Personality:Her personality is hard to explain. She has a split personality.
Powers: super flight, breathing under water, read minds, can turn into wolf at will.
Extra Info : none
Background:
She is 25%human 25%bird and 25% Wolf or eraser....She was there # 1 experiment for Expiriment:FallenAngelicwolf She was a sucsess and soom broke free leaveing and traveling. She said she was going to destroy them but the place she was created was called " The instittue for hight living " They had also tried enhancing her night vision and that was even a succsess~! She later got out and tried to block the horrid memories of her past. (where they came from/ their history ( try to put a lot of detail into this because this is what mods look for))
song that fits you character:
" Fake it "
Or
Brick by Paramore