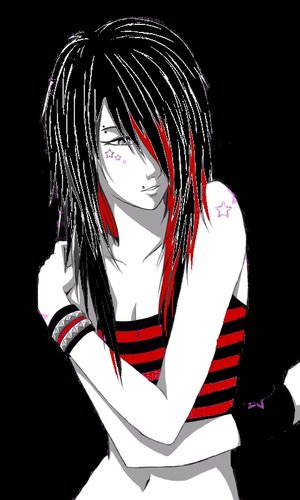 (The red is the icy-blue)
Full Name: Akahana Angel Haruma
Hair color: Black with Icey blue streaks
Date of Birth:5/10/????
age:14
skin tone: pale peach
wing color:pure black with a light blue tint to them
Eye color: Bright/dark Purple
Physical Discription:
She wears blue jeans, Black t-shirt, She loves to wear her hair i all hairstyles but mostly in a ponytail. She prefers to look strong and willing, She sometimes has her hair down.
Personality:
Powers: She can fight like an eraser, and super speed, thats it and she can read minds.
Extra Info : None
Background:
She was created in " The school " In california. She was one of there many "Successes" So they said, She hated the white coats, the erasers, She couldn't take all this but had no choice, she was also known as an "ancient." Ancient was one way to sat "Congragulations! you are one of the oldest of ouy Human Avian-Hybrids!" Though Akahana knew she wasn't the only Avian-Hybrid alive. But curiosity raised in her, she wanted to be with the other ones...The ones that were free and flying out in the open.----When she sat in her dog crate she brainstormed many I deas but none that would help her. She waited many days and nights for a ood Idea to come to her. But none provail, then she eventually got out of " The school " and is now dashing from spot to spot.
song that fits you character:
http://www.youtube.com/watch?v=lIYUpsyN7Eo